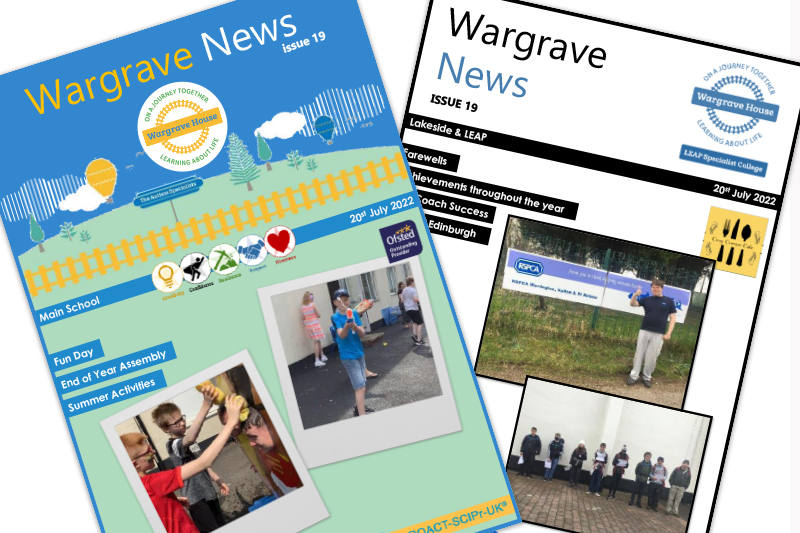 21 Jul

Wargrave House School & College Newsletters – Issue 19 – 20th July 2022

Download Wargrave News - 20th July - Issue 19 - School & College here

Dear Parents and Carers

In signing off our academic year 2021-22, I want to thank you all on behalf of all our staff, Governors and Trustees for your relentless resilience in the most challenging of circumstances both pre and post pandemic.

Having met with all staff this morning, we have much to celebrate across School and College –recognition of our National Autistic Society (NAS) Advanced Accreditation, Achieving a good Ofsted report with many outstanding features, improving the learning provision spaces for all our young people both on and off site, and witnessing the progress of all learners and students in so many ways this year. Additionally we are broadening our Therapy provision through Sundial, led by Helen Driver and our specialist team.

Our thoughts today are in particular with staff and students who are going on to pastures new. In all cases, we hope that we can at least hear, from time to time, regarding key successes and further developments. I wish you all a very satisfying summer break, with the hope that you can gain some positive family time with moments of joy and relaxation. We look forward to welcoming back all our existing and new learners /student for academic year 2022-23 on Monday 5th September.

Best wishes,

Robin

Dear Parents and Carers

We are indebted to you for your support throughout this School /College year.

We are extremely proud of the resilience all our young people have shown in the extreme heat/temperatures this week. These circumstances provided yet another unprecedented first, post pandemic. We simply couldn't do our jobs to the required standards with your continuous support, care and compassion.

Following your receipt of your son/daughter's progress report, I'd be delighted to receive any feedback on both format and content. Please email me at your convenience when time allows, ideally before the start of next term. Learner's at Wargrave House ended their academic year on a high note, following a wonderful Achievement Assembly attended by parents, carers, Governors and Trustees and wider partners on Friday 15th July.

A series of presentations were made by class staff for the young people including recognition for demonstration of the character values – Kindness, Confidence, Resilience, Creativity and Respect. These awards resonated throughout the school through the inspirational learner role models who set their bar of personal values very high through demonstrating their impact upon others. This in turn has significantly enhanced relationships across the organisation. In overcoming the challenges presented by COVID 19, all leaners who had begun at Wargrave since September were publicly thanked for their excellent start and formation of meaningful relationships with their peers and class staff.

Great pride was shown by the learners gaining Reading and Academic subject prizes, the assessment lead Caroline Gorman said :-

"We're so proud of how every aspect of our learning day and week is being fully embraced by our young people who received their trophy awards across all subjects with great delight."

An inspiring musical interlude saw the Engage class' experiences and success stories from the past academic year, including sensory activities, accessing community provisions and communicating with familiar and less familiar people.

BASE 5 celebrated the successes of their students who will be leaving this time. Students were given personalised mugs, received certificates and medals for their efforts in the subjects they have studied and their Duke of Edinburgh awards. Parent Governor Kellie Garth joined Hannah Richards, DoE Lead in presenting the bronze and silver levels.

Wargrave were particularly pleased to welcome the local Rotary President John Shaw who presented the Rotary Role Model Award to Kieron. Kieron is very excited about moving to Wargrave Sixth Form College next academic year alongside his peer group and newly admitted students from elsewhere.

I wish you all the best summer break possible with your loved ones,

Take care,

Stuart

Family Liaison Message

Wishing all of our existing and new families, due to join us in September, a wonderful summer! I will be on site Tuesday 30th August if I can be of any assistance ahead of the new term starting.

Claire Byrne
Family Liaison Officer

SENCo Message

I just wanted to thank all the parents who I met at our Celebration Assembly and for those who stayed behind to chat. It was lovely to meet you all. It was amazing to watch our learners encourage each other and celebrate their achievements. I am grateful for all your support since I started in September and look forward to seeing you again in the new School year. Have a lovely summer.

Tom Wilkinson
SENCo

Dear students, parents and carers

Myself and the incredible staff in Lakeside and LEAP would like to send you our best wishes for a happy, healthy, restful and safe summer holiday.

We look forward to welcoming our new Post 16 and Post 18 students to Lakeside and LEAP in September, whilst at the same time we send our good luck and warmest wishes to our leavers. Remember, once a member of the Wargrave family, always a member of the Wargrave family, keep in touch we love to hear how you are doing.

Take care and see you all very soon,

Julliet and the staff team in Lakeside and LEAP.
All the staff at Wargrave wish you all a lovely summer with your wonderful children. Thank you for an amazing year!