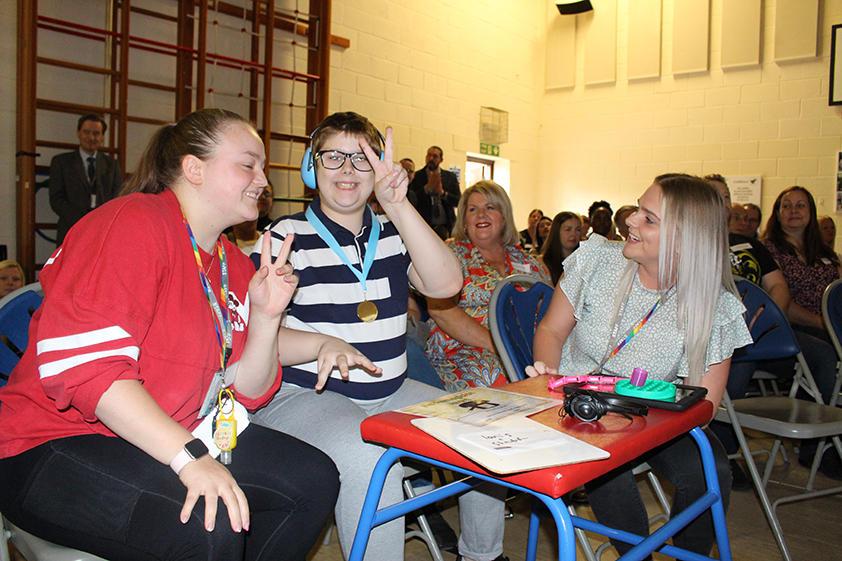 18 Jul

Celebrating Achievement at Wargrave House School
Learner's at Wargrave House ended their academic year on a high note, following a wonderful Achievement Assembly attended by parents, carers, governors, trustees and wider partners on Friday 15th July.

Presentations were made by the class staff to the well-deserved young people including recognition for demonstration of the Wargrave House character values – Kindness, Confidence, Resilience, Creativity and Respect. Great pride was shown by the learners gaining reading and academic subject prizes, the assessment lead Caroline Gorman said "We're so proud of how every aspect of our learning day and week is being fully embraced by our young people who received their trophy awards across all subjects with great delight."
An inspiring musical interlude saw class experiences and success stories from the past academic year, including sensory activities, accessing community provisions and communicating with both familiar and less familiar people.
The school leavers were also recognised, being presented with personalised mugs, certificates and medals for their efforts along with the Duke of Edinburgh awards where bronze and silver levels were presented to students by Parent Governor Kellie Garth, and Hannah Richards, Duke of Edinburgh Lead.
Wargrave House were also pleased to welcome John Shaw, the local Rotary Club President who kindly attended to present the school leavers Rotary Role Model Reward.
The assembly culminated when all students and visitors were treated to an amazing student-produced video entitled "This is Us", which was a montage of learners' recordings of themselves in their school environment, from leisure time to accessing the community to completing work in class.
The Head of Education, Stuart Jamieson closed the event thanking learners, parents, carers and staff for their relentless energy in providing all the young people with the consistency of day to day habits, epitomized through the five character values.
Following the celebration assembly, staff joined parents/carers in a coffee morning, setting the scene for the next academic year and sharing the successes of the recent Ofsted inspection. Highlights of the inspection report include, "pupils enjoy their time at Wargrave House School, relationships between staff and pupils are strong", "Governors hold leaders to account and offer effective support and challenge" and "most staff reported that leaders and governors are approachable, supportive and consider their workload carefully".
Wargrave House are very proud of the inspection result of Good, which includes some areas of the school and college being considered as 'outstanding'.
For further information about the curriculum at Wargrave House School and how community links are embraced to develop independence, please call on 01925 224899 or email enquiries@wargravehouse.com.