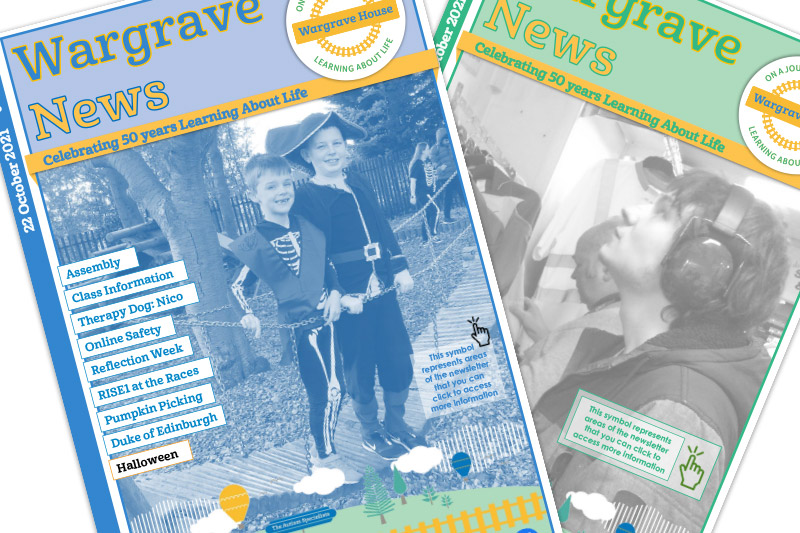 12 Nov

Newsletter Issue 4 – October 2021

Thank you all for your continuous support throughout this first Autumn half term. We were delighted to welcome so many of you at our Cosy Corner Café morning last Friday 15th October.

All our post 16 students thoroughly enjoyed hosting the event utilising their creative entrepreneurial skills.   We look forward to welcoming you next half term where we will also provide a discussion focus by way of mutual support for both learning and social needs. My thanks go to our Family Liaison Officer, Claire Byrne and Post 16 Team member Tara Thomas.

You will be fully aware of the ongoing national government monitoring of the COVID 19 Pandemic. In spite of us having some confirmed cases we have been able to securelyactivate our risk assessment policy, maximising safety for all students/learners and staff and continue learning as far as possible, both on and off site. Naturally, we will continue to fully monitor any development whilst considering advice and guidance and keep you fully informed. Throughout the holiday period we will conduct our regular cycle of deep cleaning of all areas. I would request that you, as far as possible, encourage your son/daughter tocontinue the Wednesday/Sunday LFT testing. Should you have any concerns of potential Covid symptoms and/or changes of circumstance please ensure that you email covidresponse@wargravehouse.com. If you have any concerns I would urge you to take theaction of completing a PCR test.

I am a firm believer that success breeds success and would like to convey my gratitude to all staff and students in gaining our Advance National Autistic Society Accreditation as shared within the newsletter. Wishing you all a restful half term break.

Robin Bush, CEO.
I hope our newsletter finds you all safe and well. As we close today for October half – term, we are delighted to see our leaners and students enjoying thefancy dress marking Halloween.
Such a tremendous effort has gone in to producing authentically ghoulish displays alongsidecostumes. We are now looking forward to welcoming a number of students / learners to our October half term holiday club next Thursday & Friday 28 & 29th October. Holiday club lead Monica Pennycook is running alongside a team of skilled staff. We will be writing to all in the next half term to consider your views regarding plans for out next holiday club in February 2023.
Last week we were delighted to hear the news that we had been awarded AdvancedAccreditation by the National Autistic Society following a three-day inspection. The lead accreditation advisor Jonny Knowles (North West & North Wales) worked alongside a secondinspector confirming this wonderful achievement acknowledging the professionalism,consistency and learning outcomes through both our staff and students.
Amongst the main findings and highlights of the comprehensive report are a series of quotesshared below.
Purposeful Learning
"Within all observations, learners were engaged in meaningful activities in which stafffacilitated opportunities for learners to demonstrate their knowledge. Staff provided positive feedback as well as developments which helped learners to make progress and developresilience. In some observed lessons staff supported learners in extension tasks and to thinkabout what their next steps in learning might be, creating personal challenge andmotivation to learn."
Educational Planning
"All lessons observed were planned to incorporate opportunities for learners to express their opinions and make decisions, with opportunity to work independently or with support. Staff talked to learners about their individual learning objectives and visual aids were used tosupport learners in the self-evaluation of lessons".
Sincere thanks to those parents and carers who were able to respond to the survey, some ofthe quotes below highlight your views.
Two parents spoke with the assessment team via phone during the assessment. Parents bothspoke positively about the school and the support they have received.
Parents stated that communication with the school is always good and "someone is alwaysavailable to get in touch with to offer support or advice".
Parents also highlighted the positivity of staff which is reinforced through "celebration events"and "lots of positive feedback"
Parents discussed the academic progress that their family member had made since joining the school as well as developing more "confidence", "communication" and more"motivation to be sociable".
One parent stated that the key strength of the school is the "therapeutic approach
around the needs of the child" and a "gradual approach to support thedevelopment of important skills".
Wishing you all a restful half term break, we look forward to seeing your son/daughter on Monday 1November.
Stuart Jamieson, Headteacher