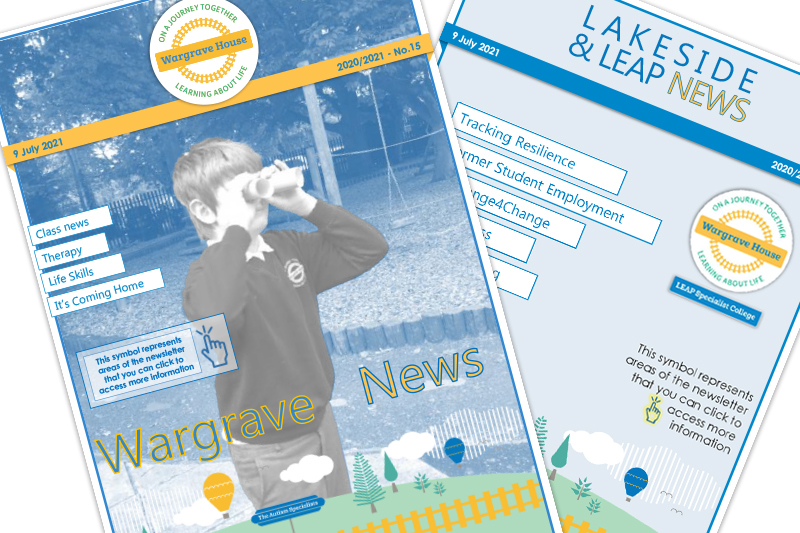 20 Jul

Wargrave House Newsletter July 2021

We hope you are well and looking forward to the upcoming summer break. The last edition of this newsletter will be sent out on our final day, Wednesday 21 July.

May we start by saying a massive thank you to parents, staff and students for their ongoing resilience throughout the Covid pandemic. As we await promising news on the 19th July of the easing of restrictions, we do aim to continue to leave protocols at school and college in place until the final day of term. Classes will remain in bubbles and masks will continue to be worn where possible and we will hopefully be ready for the next academic year, restriction free. During a recent meeting with SLT, the Governors were eager to pass on their praise for staff who have shown their dedication and commitment to our learners during these uncertain times.

Our Therapy Dog, Nico, has been with us for a couple of weeks now, settling in to his new routines and meeting staff and students. We hope that our young people continue to find their activities with Nico positive and fulfilling.

Our student-led Cosy Corner Café continues to provide snacks and refreshments to students across the provision as well as providing a vehicle for Lakeside learners to demonstrate their work-based skills for their qualifications. Well done to all staff and students involved in the running of the café over the past year.

As we approach our final week of the 2020-21 year, our learners will reflect on their recent learning during Reflection Week. We aim to gather student voice on the impact of this and will always look to ensure this period of time is of most benefit to our learners' progress.

From September, your son/daughter will be beginning a new class, or perhaps leaving us for new pastures. We have already began assisting with the transitions and we will make every effort to ensure all learners are prepared for September, when we will introduce them to some new staff and new groupings of students.

Wishing you a restful weekend and a positive football result.

Robin & Stuart.