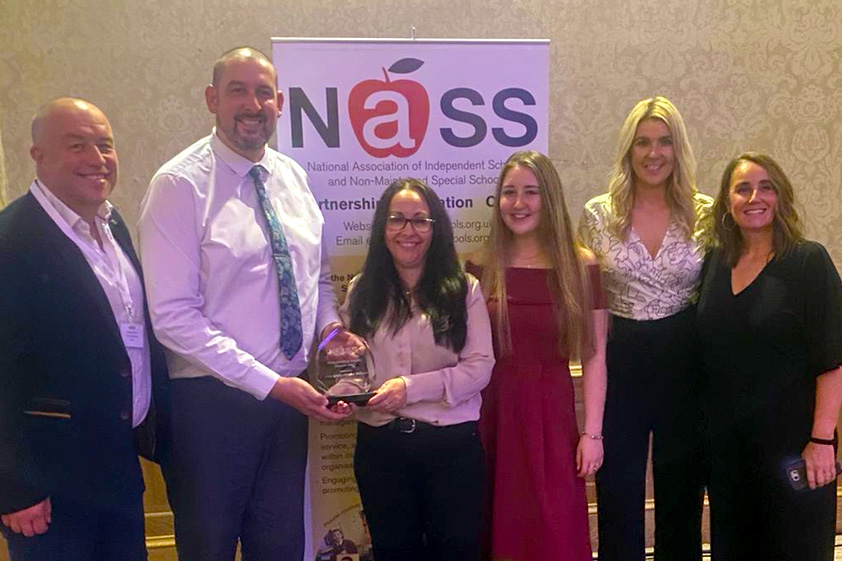 17 Oct

Outstanding Impact Award at NASS Awards 2022
Wargrave House Winners at Awards for the National Association of Independent Schools & Non-Maintained Special Schools (NASS)
Learners, students and all the staff at Wargrave House School & Sixth Form College are delighted to share that the organisation has gained national recognition by being named as winners of the National Association of Special Schools (NASS) 'Outstanding Impact Award' 2022 at the prestigious NASS Awards 2022.
Wargrave House School and Sixth Form College were shortlisted as finalists for all three categories, 'Breaking Barriers Award', Outstanding Impact Award and the 'Innovation Award', demonstrating a consistent scope of expertise from all staff relating to Careers, Information Education and Guidance (CEIAG) as well as the Sundial Outreach Team. Sundial have gone above and beyond in providing outreach and transitioning complex placements for new learners who have previously been out of education for a significant amount of time.
Showcase the work of special schools
The awards showcase the work of all the special schools in this sector, which are delivering exceptional education and helping students achieve, whilst building self-esteem through immersive activities which also enhance relationships at all levels.
Stuart Jamieson, Head of Education said, "We're really pleased that our work is being recognised by NASS who are at the fore front of innovative practice, and I am exceptionally proud of all our learners, students and staff. This is a remarkable achievement and this acknowledgement is a great testimony to our education and therapy teams who ensure we are at the forefront of national developments in providing the best possible learning experiences for all our young people."
The National Association of Independent Schools & Non-Maintained Special Schools (NASS) work with and for special schools in the independent, voluntary and private sectors within the UK. NASS are proud of their role in improving opportunities and standards for special schools.
The winners were announced at the 2022 NASS Annual Conference held on 6th & 7th October 2022 at The Grand Hotel, Brighton.
For further information about the curriculum at Wargrave House School & Sixth Form and how community links are embraced to develop independence, please call on 01925 224899 or email enquiries@wargravehouse.com.