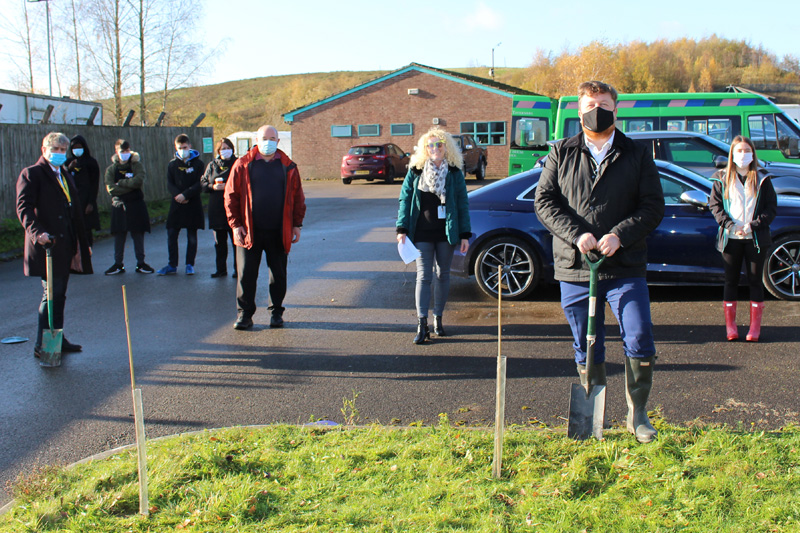 18 Nov

Look after your health and the planet – Plant a tree
The Post 16 provision of Wargrave House School and College marked the first planting of 420 saplings at Lyme and Wood Country Park on 13th November 2020.  These saplings, which will not only improve the air we breathe, but will also help to enhance our local green spaces for the benefit of the residents in our community and wildlife alike for years to come.
Staff and students from the Post 16 provision were joined by Cllr Gomez-Aspron, Deputy Leader of St Helens Council, in planting the very first saplings, kindly donated by the Woodland Trust.  Cllr Gomez-Aspron said "Wargrave House has been part of the community in Newton-le-Willows for almost 50 years, and so it is fantastic to hear about their new plans.  It was an honour to be invited to help them plant trees at Lyme and Wood Country Park and I look forward to seeing both their plans and the trees grow to fruition in the near future".
Julliet Doherty, Head of Post-16 Education commented "Big thanks go to the Woodland Trust who very kindly donated the saplings, to Cllr Gomez-Aspron for giving his time to support us and importantly to all the staff and students involved in this eco initiative which continues our drive to have a positive and long lasting impact on our local community."
If you would like to help to not only improve the environment but to also support students to gain meaningful real life work experiences, then please sponsor a tree today.  For a suggested donation of just £10 you can leave a lasting legacy to woodlands and wildlife, creating woodland habitats for years to come.  All monies raised will be used to further maintain our local community and support our students to gain meaningful real life work experiences.
For further information on how to donate, please see our Facebook page or visit our website at www.wargravehouse.com, or email jullietdoherty@wargravehouse.com.