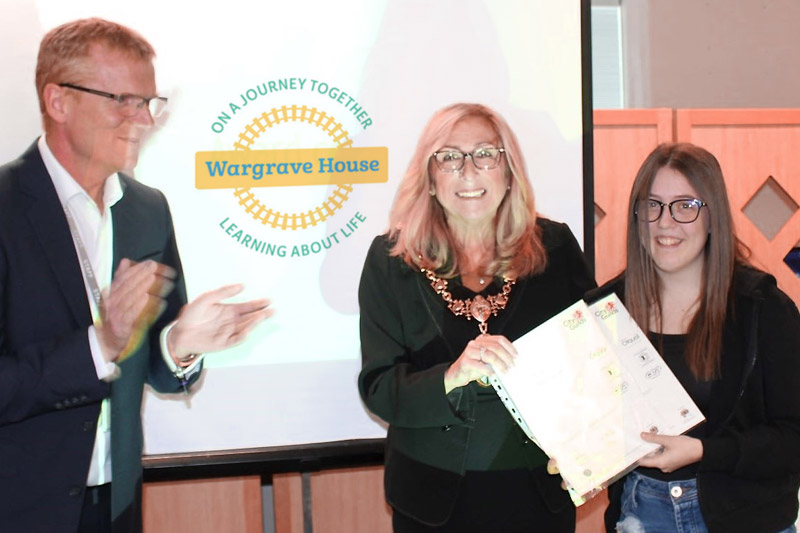 15 Oct

Mayor Visit Success for Wargrave House School & College

Wargrave House Post 16 department were proud to host a wonderful celebration event on Thursday 7 October 2021.  The event was an opportunity for all students to share their fantastic, accredited learning achievements and Duke of Edinburgh successes in the company of The Mayor of St Helens, Cllr Susan Murphy, Cllr Jeanie Bell, Cabinet Member for Safer, Stronger Communities and Phil Round, Community Governor for LEAP College. 

An inspiring presentation described some of the work the students have completed to demonstrate how they have achieved their award successes, with staff also sharing informative detail about the curriculum areas they lead on with all the guests.

Cllr Jeanie Bell, Newton Ward Councillor commented after the event "I had such a wonderful time and was so impressed by the staff and students; it's an incredibly supportive and nurturing environment and the personal tailored curriculum is fascinating."

Julliet Doherty, Head of Post 16 Education added "I would like to thank Madam Mayor Cllr Susan Murphy for presenting the City and Guilds Awards, Cllr Jeannie Bell for presenting the Duke of Edinburgh awards and our Post 16 Lead Governor Phil Round for presenting the SFLE (Employability) Awards.  To be able to share the successes of our young people with our esteemed guests was a pleasure as it is so important to us that our local and wider communities are inclusive, welcoming and provide a safe place for all of us to live and work together."

The event was a huge success and the Cosy Corner Café team at the College put on a splendid cream tea lunch, their hospitality skills being applauded by the guests, staff and fellow students.

For further information about the curriculum at Wargrave House LEAP College and how community links are embraced to develop independence and employability, please see our website www.wargravehouse.com call on 01925 224899 or email jullietdoherty@wargravehouse.com.

We are always looking for more employers to work with us and engage with our students to further support inclusion and neuro diversity within the workforce so please get in touch if you are interested.