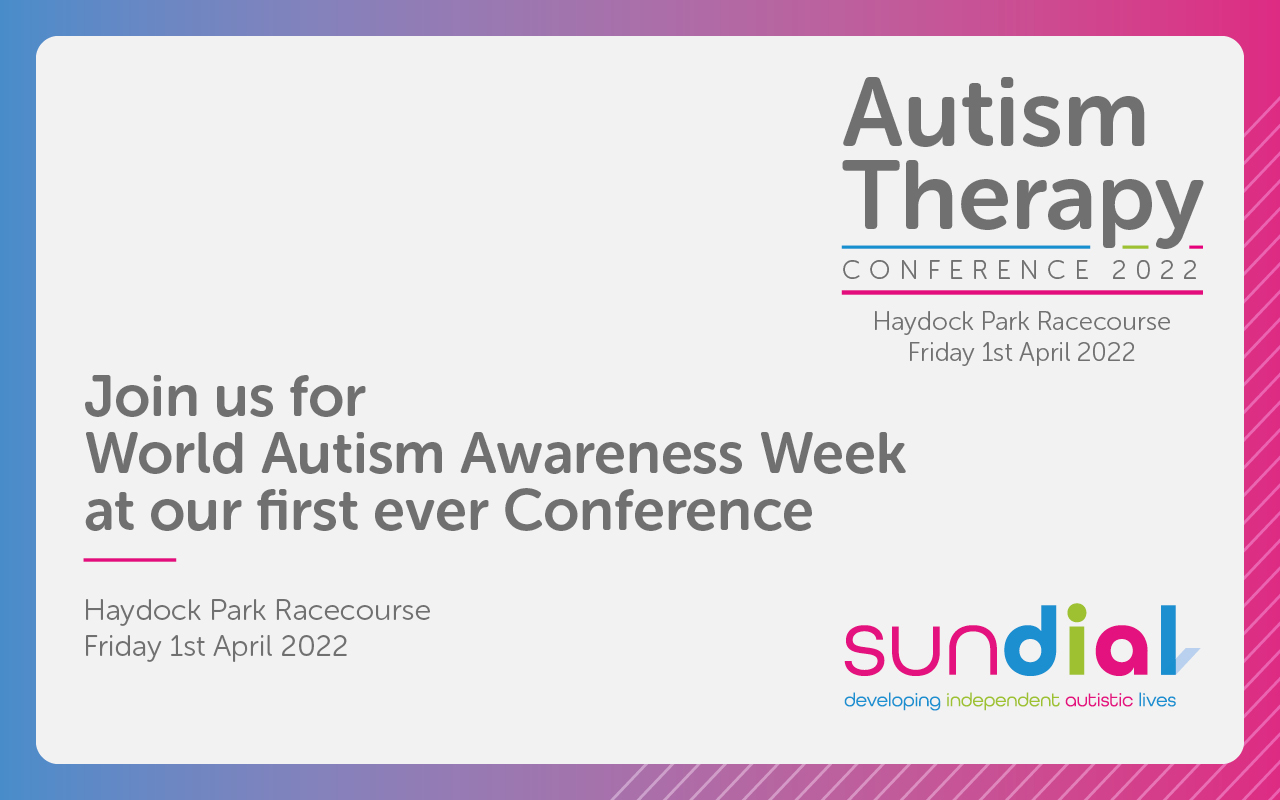 28 Mar

World Autism Acceptance Week 2022
It's World Autism Acceptance Week!
We are celebrating this years World Autism Awareness Week with our very first Autism Therapy Conference, organised and run by our brand new Sundial team, it is due to take place on Friday 1st April 2022 at Haydock Park Race course.
The event, which features some keynote speakers from across the academic world and further afield, is a day long celebration and allows us to hear some of the latest research and experiences from experts including Temple Grandin, Susan Allen, Dr Jill Bradshaw, Biza Stenfert Kroese as well as workshops and Autism in Racing's Bobby Beevers.
Event attendees will be able to learn more about therapy practices available for autistic individuals, attend a range of therapy workshops including:
Total Communication Approach
Alternative Augmentative Communication (AAC)
The conference will also feature horse racing broadcaster Bobby Beevers, founder of Autism in Racing, which he founded after his personal experience with autism led him to question how the power of horseracing could be utilised to raise awareness and ultimately support anybody with autism. Oliver Jude, director of Oliver Jude Clothing and The Positivity People CIC, set up to support young people in the educational system that need a bit more help, will also speak. 
Book a place at our Autism Therapy Conference on Friday 1st April 2022 – We still have a few places left!
Helen Driver, Head of Therapy and Clinical Services at Wargrave House School, said  "Raising awareness and helping people to have a better understanding of autism is so important to autistic individuals and their family and friends. Wargrave House School & College has been passionate about offering education and therapy for autistic children and young adults for just over 50 years, and our bespoke multi-professional therapy offer, Sundial, offers a shining example of highly specialised therapists working together."
"The Sundial team are passionate about their work and sharing their expertise to ascertain the therapy needs of autistic individuals. The dedicated and diverse professional therapists, give students access to the whole team who in turn can offer a consistency in communication between all involved. Their team approach increases the coordination assessment findings in relation to the need of the individual and allows scope for person-entered goals."
Book a place at our Autism Therapy Conference on Friday 1st April 2022 – We still have a few places left!